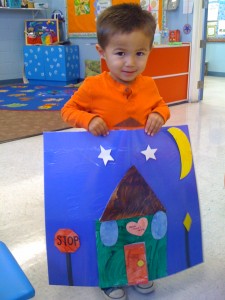 Two-Year-Old Class News
During the first month of 2012, the two year-olds were busy learning, creating and exploring all sorts of Shapes. We started our Shape Book, that will be going home in February to enjoy with our families. We really enjoyed turning everyday items into pages in our books; ice cream cones are such perfect triangles! We enjoyed creating a large house that included all 10 of our shapes. When we place all the shapes in a perfect order it makes for a beautiful house. Behind every rectangle door is a picture of a cute two year-old.
January is best enjoyed with cold, squishy snow, so that's what we did! We used shaving cream to make a snow scene, we had fake snow in our sensory table, we painted snow on pine cones and we made snowflakes of all kinds. With all that snow we were inspired to make snowmen using cotton balls, marshmallows and even ice. Our ice snowman helped us realize how cold it is to play with snow, but we quickly warmed up with some hot (lukewarm) chocolate. We used our snowmen and our shapes to help us learn about small, medium, and large; which is our new unit that we will continue to explore in February.
See you next month!
Vanessa
Three-Year-Old Class News
We started a new unit in January: Insects. We learned about the characteristics that all insects have in common and began our investigation by learning about ants. We paper-mached heads, thoraxes and abdomens, painted our ants black, attached 6 legs, 2 antennae and 2 eyes and we had model ants. We next learned about the ant's life cycle and made "ant wheels" that illustrate the different stages. Our next step was learning about the butterfly's metamorphosis. We created caterpillar and butterfly puppets and began a butterfly sequence chart that started with us cutting out paper caterpillar eggs.
We continued our "Letter of the Week" activities. We made chocolate chip donuts for D Week and learned about elephants for E Week. We made elephant hand puppets complete with sock-trunks. For F Week,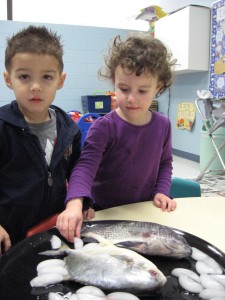 we explored real fish and painted them to make fish prints. G Week brought the story of the Gingerbread Man. We baked our own gingerbread men but two of them were missing when we brought the pans back to class. We surmised that they had jumped out of the oven and luckily for us, our eagle-eyed preschoolers found them lounging in the classroom bookcase. One of our students hypothesized that the wind blew in through the door and blew the gingerbread men away. Another student thought that Susan, our aide, moved them. This class is especially adept in their critical thinking skills.
See you in February.
Stella and Julie
Pre-Kindergarten News
January is such a fun month in our class! We learned about Chinese New Year and made dragons, lanterns and fireworks to celebrate. The children nestled under a long dragon and paraded through the yard…what fun! We also learned about Martin Luther King, Jr. Day and explored the Hebrew word "kavod," respect, and all its implications to the ways we treat ourselves and others.
Our theme for January was snowmen; we created books about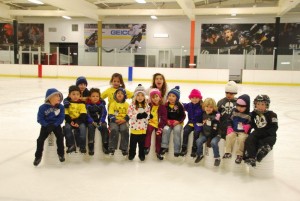 snowmen, made giant snowmen and had a play "snowball fight" in our classroom.
We started writing in our writing journals this month by learning how to finish a sentence started by a prompt and ending our sentences with a period. We worked on printing the center-starter letters, such as C,O,Q,G and S. The children are becoming talented writers! The children also started bringing home reading backpacks this month. The children take home a different book each night to read to their families 3 times as well as word family flip-books to share.
Our brilliant Pre-K'ers are now adding numbers zero through five. We've continued exploring our location words, using hula hoop math as a way to get our whole bodies involved in the learning.
Whew….another busy month in the Pre-K room.
April and Kat