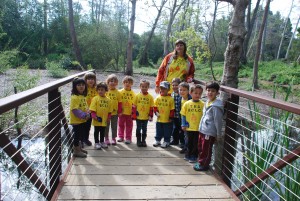 The Pre-Kindergarten program prepares children for success and confidence in the elementary school years.  Throughout the year the children are learning high-frequency words, learning about the Jewish culture and other cultures, exploring pre-math and math concepts and making science discoveries through hands-on investigations. Art and cooking projects and exciting field trips are integral parts of the Pre-K year.
The class uses the "Zoophonics" curriculum, where children use body movement to remember letter sounds. They create a book each week using their high-frequency words and proudly read the books to their families at home.  Later in the year, the children study vowel sounds and use their phonics skills to write in their journals. The "listening table" allows children to read along in books while hearing the book read.  DEAR (Drop Everything and Read) time shows children that literature and reading are class priorities.  The children have fun with handwriting, first learning the straight line letters, then the curvy ones. The "jumping frog" shows the students where to start the letter.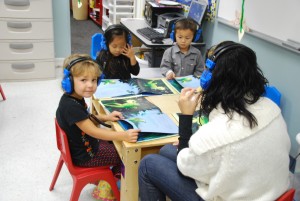 The students begin the math program learning location words and work on sorting, classifying and patterning to develop higher level thinking skills. Through songs and repetition, the children learn to count by 2's, 5's and 10's and learn number recognition to 100. By the end of the year, the children are performing simple addition.
Each month brings a new science theme; germination, weather, the ocean and farm animals are some of the themes covered.
Conflict management skills are demonstrated and used daily to help children learn self-control, choice-making and respectful compromise.