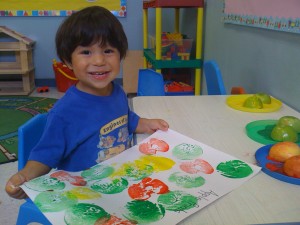 Small hands are always busy in the 2-3 year old class. Our classroom environment is designed for exploration and discovery. Our curriculum encourages the development of large and fine motor skills, logical thinking skills and social skills. We encourage social interaction by providing lots of fun and interesting opportunities for children to cooperate in group play and learn to verbally communicate with each other.
We start off the year by learning about colors, making color books and creating our own versions of the "Brown Bear, Brown Bear" book to add extra fun. The school year also includes an exploration of shapes when we learn the names of shapes and find them in our environment. We make books that use objects that are familiar to children: a Hanukah gift box makes a delightful square. Cooking with shapes is a favorite activity. Pizzas make delicious circles and quesadillas are yummy triangles. We also use our shapes to make a variety of animals. A tiger made entirely from different-sized rectangles helps solidify the concept.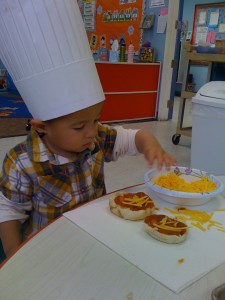 Our day includes interactive circle times filled with songs, finger rhymes, felt board stories, and puppets that encourage name recognition where children take an active role and develop greater language skills. Our themes include colors, shapes, animals, transportation, numbers and seasonal changes. Book-making is an integral part of the themes and the children take great pride in their hand-made books that they can "read" to their families.